Art Materials List
Many folks want to know about our art materials. We try to keep the list very small so that it is easy to have all the stuff with you wherever you go.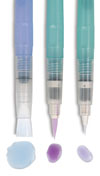 1) Brush: A Niji Waterbrush, preferable the Large size, but any size (Large, Med, Small) will do. The flat brush can be nice, but shouldn't be your only brush. These are great because you fill them with water and can use them while you are on the go.

They work well even on airplanes -- they don't seem to leak unless they are not screwed on tight. These brushes make it so that you don't have to carry water with you for your quick drawings. You just squeeze the water into your pans and paint away. You squeeze again to clean the brush with clear water. Wonderful!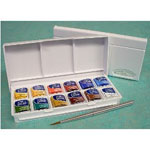 2

) Watercolor kits: We know that you might have a preference
on what kind of watercolor kit you use. There are so many great options. It is fun to look for what you'd like. If you have something already that is on the small and portable side, use it! If you find something you like, buy it! We use: "Windsor Newton Cotman Watercolor Sketcher's Pocket Box – 12 pan." At every class we have these kits for sale and some for shared use during the class. Again, go for PORTABILITY and SMALL SIZE! Pictured is the kit we use in our class and recommend for folks who are getting started.

3) Pen: A waterproof pen, at least one that is black. We use the fine point Sharpie, and Pigma Micron of various sizes, Pilot P-700, etc. Anything that is waterproof will work. This definitely varies based on the look you are going for: Want to be bold? Use a Sharpie. Lots of detail and small words? Use a .35 Pigma Micron.

4) Journal: This is a question we get almost once a week! There are so many beautiful journals out there, but not many that are made with watercolor paper. Gay uses books made by Brenda Jatho: www.brendabooks.com. They are beautiful! Other nice journals are made by Moleskine called "Moleskine Watercolor Notebooks" in two sizes, 3.5x5.5 inch and 5x8 inch. Christina is always on the lookout for good watercolor journals. She sometimes finds nice ones on Etsy (a website of handmade stuff). Cachet Linen Watercolor books are an inexpensive option. These are books that we used to sell in our classes, but we haven't been able to get a good deal on them from our local supplier. They have nice color covers and 80 lb paper. You can buy them at Dick Blick here. In class we use various brands of 140lb cold press watercolor paper. It is the most foregiving and has a nice weight to it. Strathmore recently came out with a new product called a Visual Journal. Maybe the 140lb watercolor paper version would work for you? Let us know if you find a good source for watercolor journals!

5) Pencil: Any mechanical pencil – doesn't have to be expensive, just a pencil that doesn't need to be sharpened.

6) Kneaded Eraser: These are found at any art supply store. They are great for erasing any pencil lines you don't want before you paint. Once they are painted over, you won't be able to erase them.

Great Watercolor Book: There is a wonderful book that we have recently learned about called: The Watercolorist's Essential Notebook: Landscapes by Gordon MacKenzie. If you are looking to get a sense of some of watercolor techniques we teach, buy this book. He doesn't talk about journaling like we do, but he does explain some great watercolor techniques that are shown in a nice step by step process.
Links to our favorite websites
One of our most asked questions is: Where do you get your watercolor journals? These days more book makers are making blank books with watercolor, but they don't seem to make it consistently to our local art supply stores. Many times we make our own in classes hosted by Brenda Jatho. We make our hand sewn coptic stitch binding, hard covers with chip board and lovely papers as covers and inside the cover in her classes which can be found at: www.brendabooks.com.

Brenda Books: Brenda Jatho's handmade books have just come online! Designer and Craftsperson, Brenda Jatho, creates her hand bound journals by going through a process of prototyping until the journal is exactly how she wants it. She uses an array of fine materials to craft the journals including: fine watercolor papers, decorative end papers, beautiful cover materials, ribbons, beads and other accessories. Much of her work is inspired by the artistic needs of artists Gay Kraeger, Christina Lopp and the students of their Illustrated Watercolor Journaling workshops. Her love of beads and books has prompted the design of her Beaded Spine Journals which can found on Etsy.
Strathmore 400 Series Watercolor Hardbound Art Journal - cold press 140 lb. watercolor paper that can be used for watercolor, gouache and acrylic media. You can buy the journal at Dick Blick.
Stillman & Birn Sketchbooks - journals for dry & wet media, watercolor and ink. These journals can be purchased at Daniel Smith.
Renaissance Art - wonderful leather bound books
Inspiring artists and websites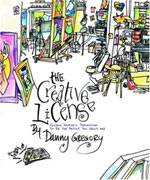 Danny Gregory: Looking for inspiration for your journals? Danny's work is truly amazing. His book "Everyday Matters: A New York Diary" is now regularly recommended in our journaling classes. To top it off, he just came out with his newest book, perfect for anyone wanting to learn about how to get inspired creatively called "The Creative License: Giving Yourself Permission to be the Artist You Truly Are." His description of the learning to draw process is so right on -- so true. We think this guy is exceptionally gifted and very honest. Don't believe us? Then check out his weblog and see what he's all about -- more of his fab drawings included! AND, as if that isn't enough, Danny has a great list of weekly drawing challenges here -- all 225 of them!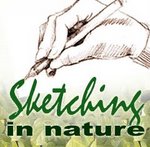 Cathy Johnson started this lovely Sketching in Nature Blog in April 2009 to showcase an international group of artists learning from "the best teacher there is -- nature!" The artist who post are by invitation only, and as Gay Kraeger has been asked to be a correspondent, we thought folks here might be interested to see what is going on over there! There is also a wonderful Flickr page of Sketching in Nature here. Check them both out!
Ruth Korch Art is a local Santa Cruz artist that teaches classes on journaling and calligraphy. She also has an art spa day which includes gourmet food and focuses on a special theme and medium.
Illustrator Maira Kalman for the New York Times entitled: The Inauguration. At Last. A beautiful and inspiring piece/journal about the inauguration of President Obama. I love the sentiment that comes across in illustrations like these!
Susan Iannucci's Watercolor Traveler website is a wonderful look at the amazing places she's traveled in the past several years, as well as images from her current home in Finland. She is a past student of ours who is still taking our encouragement to enjoy journaling her own life to heart!
Jerome Domurat is a long-time journaler, naturalist, and all around inspiring recorder of life's many treasures. Frequently he shares his wonderful books from his years of collecting an extensive library. For more inspiration, take a look at his wonderful list of Journals and Sketchbooks with a lot of inspiring content at Amazon.
Tom Wood: "They are working books and I don't edit or clean them up for public consumption. Over the years they have become an essential part of my practice as a painter." Wonderful imagery!
Jonathan Keegan: His sketchbooks have illustrations that show up in the Wall Street Journal.
Dan Price's "Moonlight Chronicles": "He's searching far and wide for those few rare souls who believe in his quest for ultimate simplicity and a purely authentic life." He's at it again with his Pigma Micron pens!
Teesha Moore: We were introduced to Teesha's work when we learned about Somerset Studios! A wonderful inspiring artist!
Illustrated Nature Journal: Ideas about how to get started drawing the world around you.
1000 Journals: Started in 2000, 1000 blank journals are circulating throughout the world and people everywhere are adding to their pages and passing them on. Very cool!
Online Art Supply Stores:
Cheap Joes: All sorts of supplies -- great store we hear, with fantastic classes in North Carolina!
Daniel Smith: Based in the Seattle area, we buy most paper and much of our watercolors from this online store.
Hollanders: Based in Ann Arbor, Michigan, this is a wonderful store with everything you need to make handmade, hand bound books. Great paper as well!
Flax: Based in San Francisco, CA, a wonderful place for paper of all kinds as well as all sorts of art supplies. We love field trips to this store!
Art Supplies by Utrecht Art: This is also wonderful art supply company, and we buy our Matte Medium online here. Best prices we've found for it!
Dick Blick: Another tremendous art supply store.
Palace Arts: One of our local art supply stores here in Santa Cruz. Sometimes you need to just go in a browse!
Lenz Arts: Another local art supply store (Santa Cruz has a lot of artists!!) with wonderful paper, paints, and collage items of all kinds.
Beverly Fabrics & Michael's: two stores that seem like they might not have what you are looking for -- but they do! Our Beverly's in Soquel carries so many supplies for making books, scrapbook/collage pages, etc. Pretty amazing places!
More interesting sites
Somerset Studio Magazine: We learned about this wonderful paper arts and more magazine when we were asked to contribute to it in the July/August 2002 edition. We were thrilled to be a part of such a wonderful creative offering. We've since bought quite a few things from it's pages!
Have a link you think we'll be interested in? Send it to us! info@watercolorjournaling.com